On one of the foodie sites, I came across this discussion about a Danish pancake ball called Aebleskiver. They are made in a cast iron pan that resembles a muffin tin that looks like this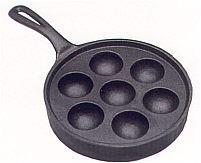 Looking at this pan, surprisingly led me to this discovery. The pan is nothing but an appam or paniyaram mold that is used in South India to make similar fritters. Here is mine:
Some research revealed other
interesting insights
. Kanom Krok is a Thai version of appam. It is made similarly with rice flour and coconut but it has a filling of some sort. I just happen to feel that these dough balls originated in Thailand and traveled to South India. I am wondering if there is a version of this in Sri Lanka too since all these parts have a lot of similarity in climate and religious beliefs.
I find all this study of how foods evolved really thought provoking since they also represent change in government and religion that happened around that period. May be the corrupted, westernized versions of South Asian foods we are served at restaurants will evolve into legitimate dishes with their unique identities. I wonder if anyone still knows the stories behind ethnic dishes like aebleskiver, kanom krok or appam.